NGK Iridium IX Spark Plugs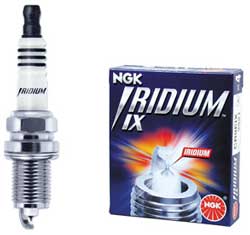 NGK Iridium IX spark plugs provide unsurpassed performance in auto/light truck and powersports applications. The iridium alloy electrode is extremely durable to heat, corrosion and electrical wear. The fine wire electrode reduces the amount of energy required to create a spark while providing increased ignition efficiency and superior ignitability. The center electrode of Iridium IX spark plugs has an extra anti-fouling mechanism. A thermo edge between the center electrode and the insulator nose provides a gap for a secondary micro-discharge to jump and initiate a self-cleaning process.
Product Code:
ngk_iridium_ix
• Brand:
NGK
Product Details
Reviews & Rating
Reviews (0)
Share your AMSOIL Experience
by writing a review


3 Easy ways to place your order now!











Authorized Dealer Network of Premium Quality AMSOIL Synthetic Lubricants and Filtration Products
Copyright © 2018 www.wboil.com. All Rights Reserved
Home
|
Privacy Policy
|
Site Map
Receive AMSOIL's Confidential Factory Direct Wholesale Price List in your email.
Enter your first name & email address and click on "eMail Price List" button!
AMSOIL Online Store
AMSOIL Preferred Customer Program. Save upto 25%!
Wholesale Business Accounts
Become an AMSOIL Dealer!
Request FREE AMSOIL Catalog
Questions? Please Contact us
Order AMSOIL By Phone
AMSOIL Online Store
Order AMSOIL By Fax
VISA and MASTERCARD is accepted for US and Canada.
Discover and American Express is accepted for US customers only